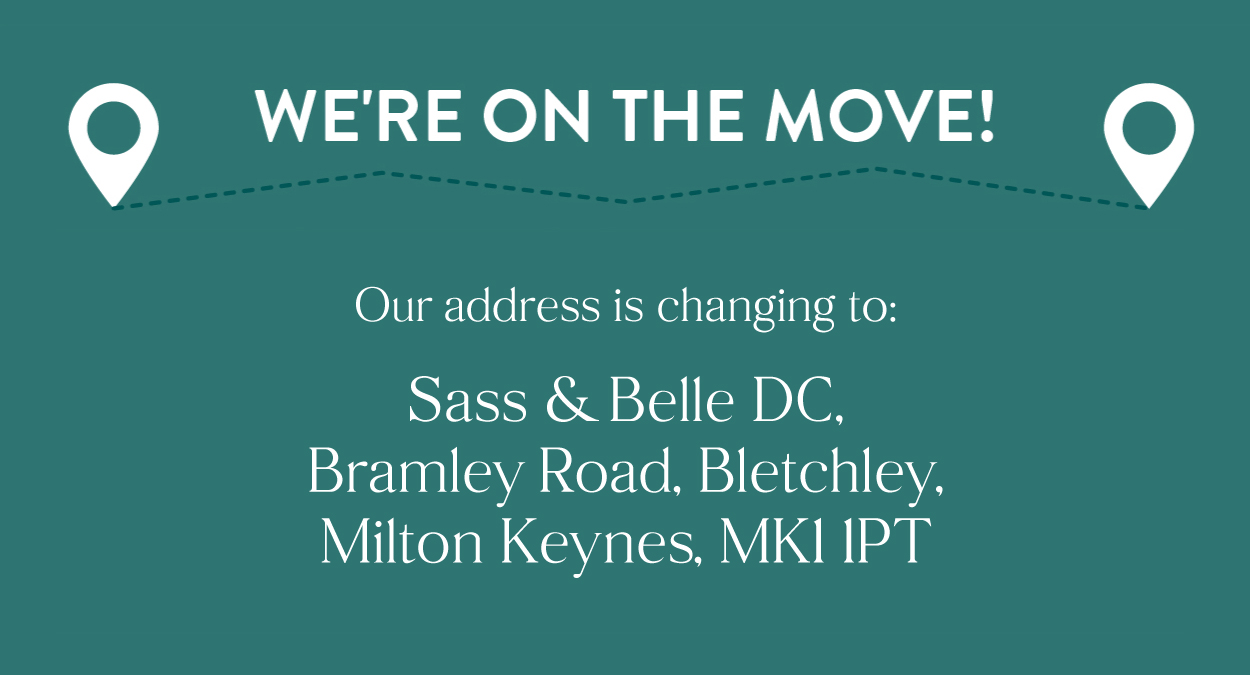 ---
Autumn Update From Our Founder
21st of November 2022

I want to start by saying thank you so much for all your continued support for the Sass & Belle brand over the course of 2022. We always strive to offer the best possible service, even in the most difficult of times, and I hope that you have benefited from this in what has been a very topsy-turvy year - possibly up there as one of the most challenging years I have known since starting this business all those years ago. I personally am coming out of 2022 with a wonderful Ukrainian family who live with us, and also an understanding that the world has fully shifted. Products and gifts now need to be mindful of both the planet that we live on and exist within an environment of affordability for those who suddenly have so much less to spend.
Years like this make all aspects of business challenging (especially when shipping containers full of Christmas stock get holes in them!). However, I am proud to say we have a complete range of wonderful Sass & Belle-designed festive products in stock to choose from. All of these are selling exceptionally well, alongside our very wide range of joyful home and gift products.
At the start of 2022, we moved into our very own warehouse in Milton Keynes. Having our own space has been very exciting for us and I am pleased to say we are now happily bedded, both with our wonderful long-standing members of staff who moved with us and also some keen Milton folk who have more recently joined the team.
I wish you all the best for the festive trading period. We are really looking forward to showing you our new Spring/Summer and Christmas ranges for 2023. Each one has been thoughtfully designed in-house and is unique to Sass & Belle.
---
We're on the Move
2nd of February 2022
Our Distribution Centre is currently relocating from Heathrow to Milton Keynes and our team members are on the move! This is an exciting time for us as we've outgrown our current DC and Milton Keynes is a much more spacious facility which will allow us to operate more efficiently and maintain our great service levels.
Unfortunately, this means a temporary increase in delivery times for all orders.
UK orders will see a slightly increased dispatch time of 5-7 days between
8th - 28th February 2022
.
International orders will be dispatched via our partner, GLS on the
9th of February 2022
, then we will take a short break and resume dispatching again on the
24th of February 2022
.
You can still place orders during this period and we will make sure they are sent in the next available shipment.
Thank you for your understanding during this busy time. If you have any questions or need support, please contact your account manager or our Customer Care Team and they will be happy to help.
---
An Update From Our Founder
1st Feb 2022
An update on pricing from our founder, Richard Stone.

As you may be aware, due to the increase in energy pricing we have noticed an unforeseen rise in transport, raw material and manufacturing costs which is affecting businesses both large and small worldwide.
As a company over the past six months we have tried to protect ourselves from these rising charges. However, reluctantly, after much deliberation we have to pass some of these costs onto our customers.
After careful consideration and lots of number crunching, I have taken the decision to change a small percentage of our product pricing to reflect our increased costs. Sass & Belle is known for being an affordable brand, so any decision to increase pricing is made after very careful consideration for how it would impact your business, with the aim to cause minimal disruption.
Over 80% of our product pricing will remain unchanged, and I am confident that even with some lines increasing, our offering remains both competitive and affordable in the current marketplace. The small price increases allow us to offer you the same unique, quality product you and your customers are used to receiving from Sass & Belle.

The price changes will take place from 2nd Feb 2022. If you are awaiting any backorders, please rest assured that these will not be affected by any cost increases.

I thank you for your understanding, support and continued business. In more positive news, our design team has just launched our Spring/Summer '22 collection which is proving to be our strongest season launch to date.

If you have any questions regarding these changes, please get in touch with your account manager or our customer service team.

Sincerely,

Richard Stone
Founder
---
EU Shipping
11th November 2021
Dear EU Customer,

As we are approaching the Christmas Holidays we have some EU delivery service updates for orders placed in November & December:
To ensure you receive your delivery BEFORE the 23rd December you will need to place your order by the 25th November.
Orders placed after the 10th December will be delivered in early January 2022. This is due to EU delivery service downtime during the Christmas holidays.
A kind reminder that we will continue to dispatch your orders once a week (see graphic below) to Europe. However, due to the busy Christmas trading period orders may take up to 17 working days before reaching you.
---
New EU Delivery Service
6th July 2021
Although the UK has left the EU, we at Sass & Belle are on hand to support you with your shipping needs as we launch our new EU delivery service.

We will now be dispatching all EU orders through the GLS postal network based in Europe. This EU service ensures that you will receive your order promptly and guarantees that you will pay no extra fees in relation to duties and taxes after placing an order with us.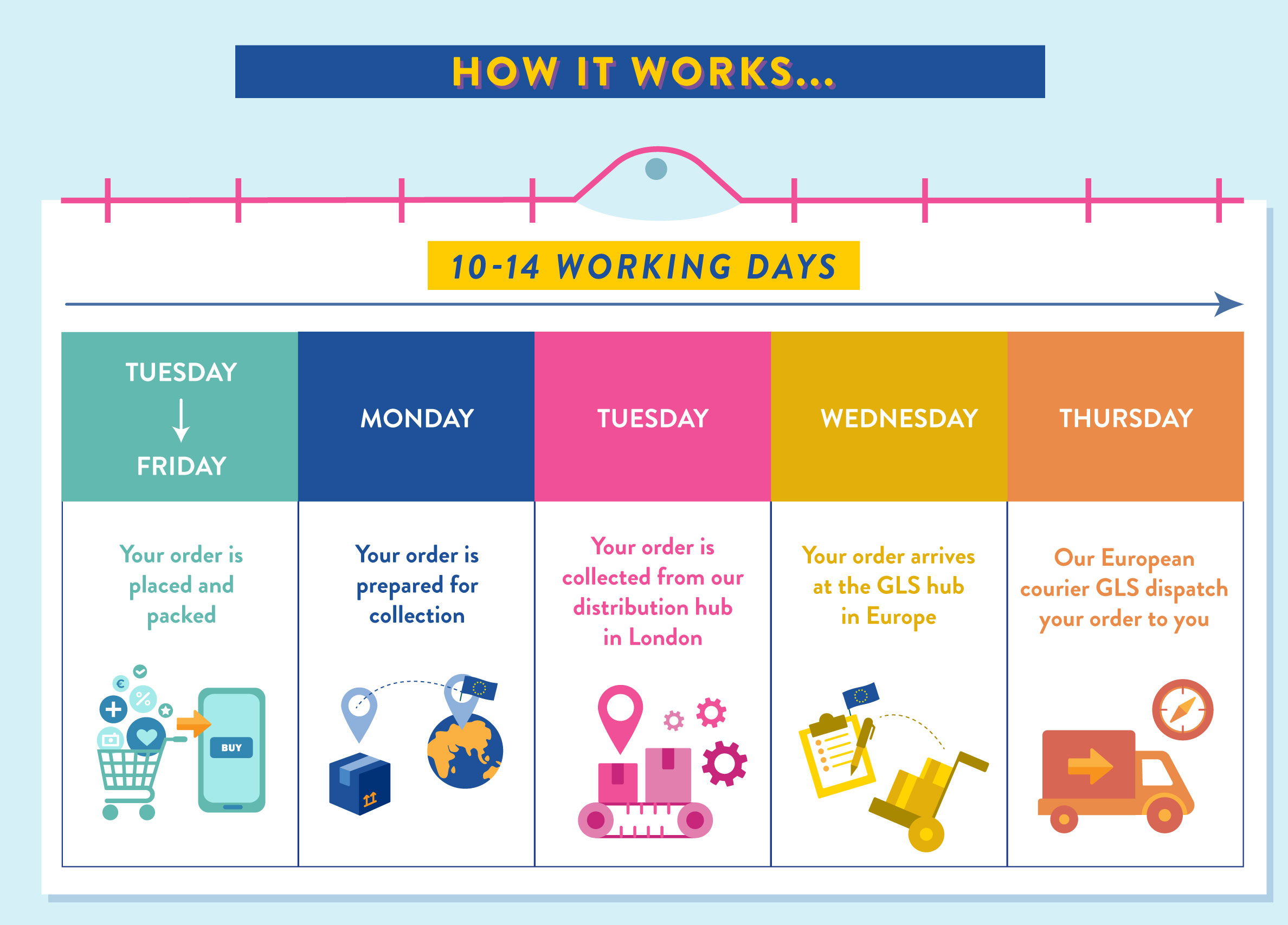 ---