LATEST UPDATES
EU SHIPPING UPDATES
11th November 2021
Dear EU Customer,

As we are approaching the Christmas Holidays we have some EU delivery service updates for orders placed in November & December:
To ensure you receive your delivery BEFORE the 23rd December you will need to place your order by the 25th November.
Orders placed after the 10th December will be delivered in early January 2022. This is due to EU delivery service downtime during the Christmas holidays.
A kind reminder that we will continue to dispatch your orders once a week (see graphic below) to Europe. However, due to the busy Christmas trading period orders may take up to 17 working days before reaching you.
---
6th July 2021
Although the UK has left the EU, we at Sass & Belle are on hand to support you with your shipping needs as we launch our new EU delivery service.

We will now be dispatching all EU orders through the GLS postal network based in Europe. This EU service ensures that you will receive your order promptly and guarantees that you will pay no extra fees in relation to duties and taxes after placing an order with us.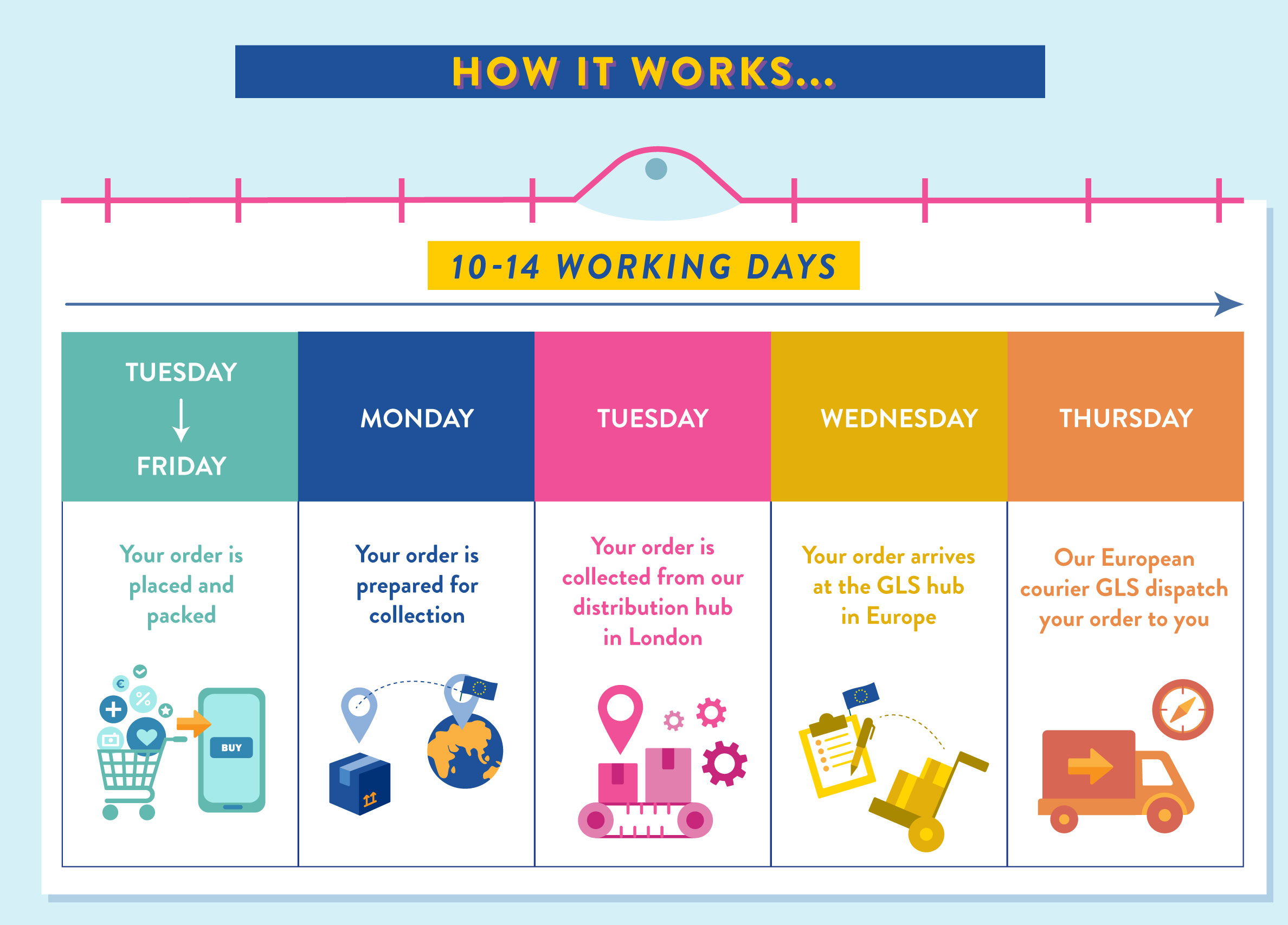 ---
AN UPDATE FROM OUR FOUNDER
10th May 2021
An important update from our founder, Richard Stone.
As I'm sure you will all agree, the past year or so has proven extremely challenging for many businesses – Sass & Belle included. I am pleased to say that despite Covid-19 and the UK's exit from the EU, we have managed to trade through the storm and more positive days seem to be on the horizon.
Over the past few years, as a business we have worked hard to absorb any extra costs that our factories, suppliers, shipping companies and couriers have passed onto us. We have been able to protect our customers from these ever-increasing price changes by finding more cost-efficient ways of working, and frankly by taking the hit ourselves.
However, due to many raw material and manufacturing costs increasing over the past year, I have taken the tough decision to change a small percentage of our product pricing to reflect our increased costs. Sass & Belle is known for being an affordable brand, so the decision to increase pricing was not taken lightly. However, please be assured that every effort has been made to keep the increase to a minimum - over 85% of our product pricing will remain unchanged, and I am confident that even with some lines increasing, our offering remains both competitive and affordable in the current marketplace. The small price increases allow us to offer you the same unique, quality product you and your customers are used to receiving from Sass & Belle.
The price changes will take place from 13th May 2021. If you are awaiting any backorders, please rest assure that these will not be affected by any cost increases.
I thank you for your understanding, support and continued business. Looking to the future, you can expect to see many new product lines arriving in our warehouse. Our design team has been beavering away creating our Autumn/Winter '21 collection. The season promises many new and bestselling product types in a variety of trend-led designs.
If you have any questions regarding the coming changes, please get in touch with your account manager or our customer service team.
Sincerely,
Richard Stone
Founder & Managing Director
Business is as usual at Sass & Belle and we are continuing to dispatch all online orders that come our way, shipping directly to your door.
To take care of our Distribution Centre Team, we have taken necessary measures, following government guidance, to ensure the health of all our employees.
Phone and computer communication has been remotely moved into the homes of our team so that we can continue to be there for you. Do not hesitate to get in touch via info@sassandbelle.com or on +44 (0)207 346 0100 if you need a helping hand.